There are a few things we consider important in a benchtop water filter. Excellent filtration, removing fluoride, convenience, ease of use and a long filter life.
If you're still drinking unfiltered tap water, you'll experience a profound difference with one of our benchtop water filters that remove fluoride, heavy metals, pesticides & other contaminants easily.
Browse the best benchtop water filters Australia has available.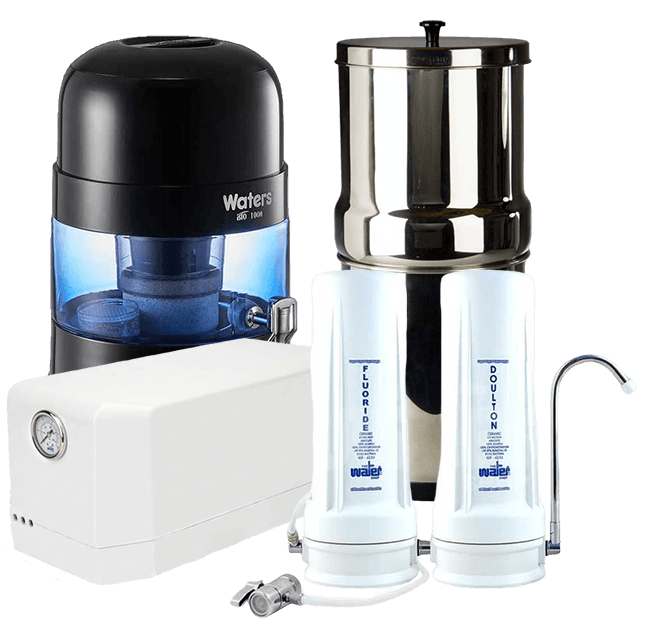 The Absolute Best Countertop Water Filters
Our range of benchtop water filters are extremely convenient in the sense that they require no plumbing connections or electricity to filter the water.  Our benchtop water purifiers are known for their ease of use and this makes them the perfect countertop water filters for renters, students and the elderly.
Join a growing movement of well informed people that are using quality bench top water filters for clean water.  Eliminating the contaminants as well as unpleasant tastes and odours from your water supply is one of the many benefit of a of the best bench top water filters.  The best countertop water filters will restructure and re-mineralise the water to make it more available to your body.
$

395.00 –

$

490.00 inc. GST

$

549.00 –

$

638.00 inc. GST
Benchtop Water Filter FAQ
What should I look for in a benchtop water filter?
In our opinion the minimum requirements for any benchtop water filter system are multi-stage filtration that includes fluoride removal.  The question then becomes, what type of benchtop water filter suites your situation.  The remineralisation and restructuring of the water is also very important to some of our customers and the convenience of having a high quality alkaline water filter on your benchtop is priceless.
What are the best benchtop water filters?
The question of which is the best benchtop water filter depends on your needs.  How many litres of filtered water do you need per day and what is going to be convenient to use.  Most benchtop water filters won't require intrusive plumbing or electricity. There is a difference in the various methods that are used to remove fluoride and some prefer not to use activated aluminium to remove fluoride.
Do countertop water filters really work that well?
The simple answer is yes, they work very well.  There's generally 2 types of countertop water filters.  One style of bench top filters connects to your tap using a diverter valve and therefore needs to be located close to your tap.  The other style is a gravity fed bench top water purifier that can be placed where it suits you.  Quality benchtop water filters in both styles will produce clean drinking water removing the vast majority of any unwanted pollutants. As with any water filter system there should be multiple stages of filtration. Not only to ensure clean water but to allow the specific filtration stages to do the job they're designed for.  Single stage water filtration does work but will not remove fluoride.
How often do I have to change the filters in my countertop water filter?
With all of the Waters Co water filters there are detailed instructions on the exact timing of the filter changes. What we find exciting is the fact that they include years worth of filters for the system in the initial purchase.  This brings the cost per litre down to approx 3 cents for the Waters Co benchtop water filters.
How easy is it to set up a benchtop water purifier?
Incredibly easy and it takes only a few minutes once you receive your order.  Simply follow the detailed instructions provided and you'll be enjoying great tasting, clean water in a few easy steps with a convenient water filter on the bench top.
Is there a difference between a benchtop water dispenser and a benchtop water filter?
There usually is and in many circumstances a benchtop water dispenser may not be a high quality benchtop water filter.  When you purchase a specifically designed countertop water purifier you can be sure that your benchtop water purifier is delivering the highest quality of water.