Countertop Reverse Osmosis Water Filters
Countertop reverse osmosis water filters offer excellent quality water filtration, removing fluoride and other contaminants with convenience, ease of use and long filter life.
Drinking unfiltered tap water exposes you to fluoride, heavy metals, pesticides and other pollutants. Countertop reverse osmosis (RO) filtration is an excellent and affordable way to effectively remove these contaminants for cleaner, healthier water right from your tap. Countertop RO filters consistently eliminate fluoride, heavy metals, pesticides and more that standard filters can't.
Browse the best countertop reverse osmosis water systems Australia has available.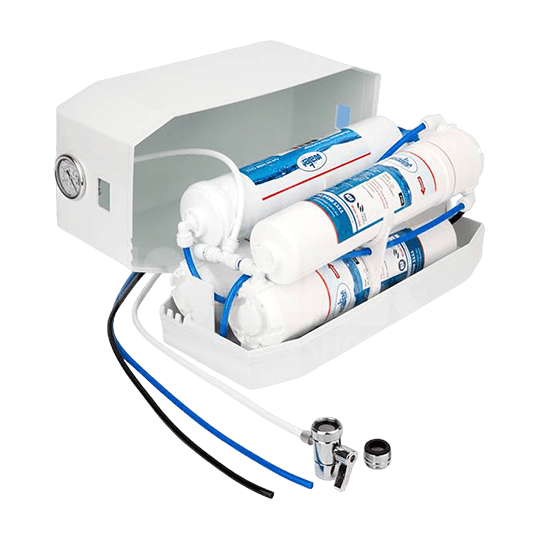 The Absolute Best Benchtop Reverse Osmosis Systems
Upgrade to our range of high quality, countertop RO filters that perform significantly better than cheap imitations. Our countertop reverse osmosis filters are rigorously tested and certified by NSF and WaterMark to ensure unbeatable quality and contamination reduction.
Join the growing movement of health-conscious consumers who understand the vital importance of clean, pure water. An excellent countertop RO system doesn't just remove unpleasant tastes and odors – the best countertop RO system eliminates up to 99% of contaminants for healthier, fresher water. Our top-rated countertop reverse osmosis water purifiers are capable of re-mineralising the water for improved absorption, while removing almost all heavy metals, chemicals, bacteria and more.
Give your family the cleanest, healthiest water possible. Discover the pure difference with our superior line of countertop reverse osmosis systems today.
Replacement Filter Cartridges for
Benchtop Reverse Osmosis Systems
Certified Countertop RO Filters
These systems meet the WaterMark specification AS/NZS 3497:1998 Amdt 1 2001 Drinking water treatment unit – Plumbing requirements.
Certificate Number 23124.