Australia's grain mill specialists. Browse our range of quality home flour mills & grain grinders.
Australia's grain mill specialists. Browse our range of quality home flour mills & grain grinders.
Quality Grain Mills & Australian Support
Our range of home flour mills & grain mills are arguably the best stone grain mills Australia has available.  Not only are these grain mills all built to last, their gorgeous craftsmanship is an asset to any kitchen that needs a flour mill for home use.
The many benefits of being able to mill flour at home become apparent as soon as you taste it.  Our electric grain mills retain all of the nutritional benefits of the whole grains & spices you choose.  These stone grain mills ensure that the grain isn't overheated and maintains all of the nutritional benefits that are lost in refined grains.
The convenience of having a stone mill grinder handy in your kitchen is priceless, not only for the taste, but for the peace of mind.  Knowing exactly what your flour contains and having complete control over the mixtures your flour grinders are generating, leads to creativity in your baking.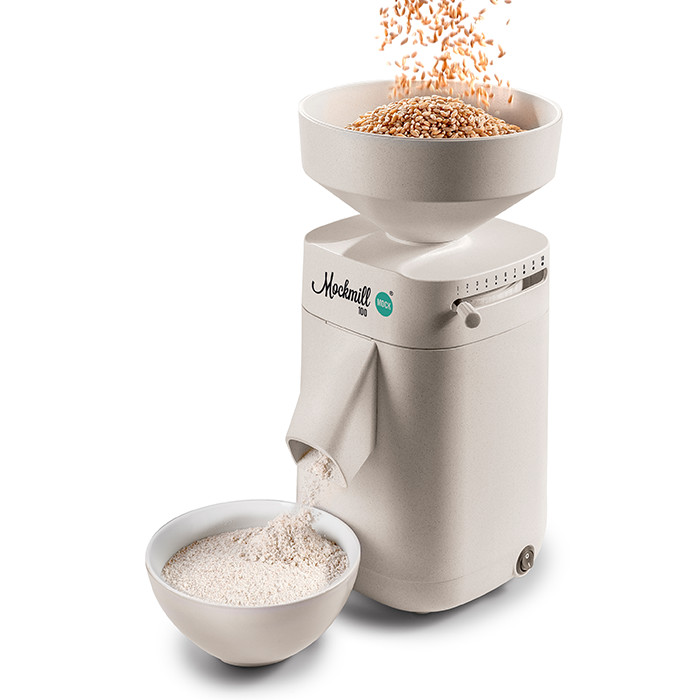 The Mockmill range of flour mills are designed by Wolfgang Mock who is well known for the quality and performance of his grain mills.
$

572.00 inc. GST

$

1,265.00 inc. GST
Waldner grain mills are manufactured in Austria and backed by an 8 year warranty.  Their gorgeous craftsmanship is obvious and the milling components are the highest quality.
Grain Mill Comparison Table
Manual stone grain mills are perfect for when you want fresh flour but don't have access to electricity.  These hand grain mills are designed to last a lifetime, they're smooth to operate and product outstanding quality flour.
$

455.00 inc. GST
The Nutritional Benefits of a Quality Stone Mill Grinder.
All of the grain mills we sell are stone grinding mills.  This means that the grain is ground between 2 stone plates in an age old method that does it's best to ensure the enzymes & vitamins are maintained.  Our grain milling machines ensure that the bran is utilised completely.  This is important because it is the high fibre outer layer that contains B vitamins, iron, copper, zinc, magnesium, antioxidants, and phytochemicals.
A well built stone grinding mill maintains the integrity of the germ. It's high in healthy fats, vitamin E, B vitamins, phytochemicals, and antioxidants.  The best grain grinders will enable you to get the most out of the endosperm.  This interior layer holds carbohydrates, protein, and small amounts of some B vitamins and minerals.
We have several grain mills for sale.  You can be assured that they are highest quality European built flour mills Australia has seen to date.  All of our home flour mills are designed for domestic use and they're backed by excellent warranty (8 Years for Waldner Grain MIlls & 6 Years for Mockmill) that's only possible with quality workmanship.
Frequently Asked Questions About Our Grains Mills
What are the benefits of using a stone grain mill?
Most commercially available flour has lost the majority of it's nutritional benefit 72 hours after production.  The commercial milling process will generally remove close to 30% of the whole grain.  These flours have the wheat germ oil removed to prevent the flour becoming rancid during transportation and storage.  In order for these flours to maintain a long shelf life, these very important elements are removed.  The benefits of freshly preparing flour from a mixture of your choosing are numerous.  These stone grain mills produce flour that is superior in both the taste and nutrition. 
How easy is it to use an electric stone grain mill?
It's incredibly easy to use these grain grinders.  Naturally each unit has it's own requirements, but overall they are simple to operate, easy to clean and very convenient.  It only takes a few minutes of stone milling to make enough flour for a loaf of bread and more importantly you retain the full nutrition that you can only get from freshly milled wholegrain.  This is not the sort of appliance you purchase every few years.  These grain mills are built for decades of use and are supported by warranties that reflect this.
What grains and spices can I use in my grain grinder?
A stone grinding mill is capable of milling Wheat, Rye, Oats, Spelt, Barley, Corn (Maize, not popcorn), Millet,  Durum Wheat, Round Grain Rice, Long Grain Rice, Buckwheat, Chickpeas, Linseed, Quinoa, Amaranth and Dried Peas.  Your mill grinder can process other clean grains that are similar in size to the above.  They'll need to be dry and low in oil content and milled with care. Coffee can be ground with some success providing it's been very well roasted.
Stone milling of spices including Coriander, Fennel, Fenugreek, Cloves, All Spice (Pimento or Jamaican Pepper), Caraway, Mustard Seed and Pepper Corn should be done on a coarse setting.  If you would like to use your grain mill for  Dill, Cumin, Nigella (Black Cumin), Chili, the seeds of Green/White/Black Cardamom etc, these should be done in small amounts if done alone.  Otherwise they can be used in a mix with other dry items.
How fine is the flour output from a stone grinding mill?
Fine flour output is particularly important for pastries and dessert baking and all of the grain mills we offer are capable of producing very fine flour.  Many customers come to the conclusion that using the whole grain flour output from their home flour mill results in fuller taste and improved nutrition.  Sour dough, for example, really benefits from the complete output of the flour mill and the balance it provides.
What are the benefits of Stone mills over Steel mills?
Many of the steel grain mills operate at approximately 20,000 revolutions per minute which makes the grains explode as they come in contact with the small metal teeth. This type of steel milling is more noisy than stone milling and it's also been shown to reduce the available nutrition in the whole grains due to the additional heat and oxidisation that takes place at these speeds.
Stone milling is an age old method that is recognised for maintaining the nutrients in the flour.  Our European built grain grinders operate at speeds that are considered intermediate.  This prevents overheating of the flour and maintains the vitamins, minerals and enzymes as much as possible whilst producing flour to be used conveniently everyday.
Why is the level of moisture in the grain important?
Stone milling requires your grain moisture levels to be less than 14% to prevent that mill stone surfaces from binding.  A simple way to test your grain is to place it on a solid surface, lay the flat side of a knife on top and press down firmly.  If the grain cracks open, it should be dry enough to be used in your grain grinder.  If the grain squashes with that typical cracking sound, it is likely too damp to be used.
How is the stone grain mill cleaned?
Cleaning your stone grain mill is quick and easy.  Simply mill a tablespoon of rice on coarse.  If your grain mill stops grinding because of high moisture grains or oil on the stones, just turn off the flour mill as soon as you see that the output has reduced.  Clean the mill chamber out  and then clean the stones by milling white rice on medium coarseness to remove the smeared elements. The wooden housings are generally cleaned with a dry cloth.
Can I use the grain grinder for nuts and seeds?
In order to stone mill a 100% mix of nuts or seeds on finer settings, you'll need to ensure the nuts have been roasted very dry because of the high oil content.  Using  shorter sessions, meal can be achieved on medium settings at a 100% mix for linseed or sunflower seed meal.  A mill grinder is also capable of milling nut pieces and seeds on finer settings when mixed up to 50:50 with hard dry grains like wheat.
How long does it take to make flour?
It takes just a few minutes to make enough flour for a loaf of bread.  Our range of electric stone grain mills make up to 200 grams of flour per minute.
How long will an electric stone grain mill last?
Our stone grain mills are built to last decades. The brush-less motors are large and heavy duty. The corundum stones can last up to 15+ years under normal domestic use conditions. 
What are the Corundum-Ceramic mill stones?
Corundum is a gemstone that occurs naturally with a harness rating of 9,  just below diamonds at 10. The Corundum -Ceramic mill stones are made from a synthetic version of Corundum that is identical in both chemical structure and hardness. The Corundum is bound with ceramic at high temperatures to create an inert stone that is extremely hard and exceptionally slow wearing. The makers of these products are Europeans and they are very particular about their health.  This inert combination allows for a very hard stone in a relatively low profile.  The mill stones don't suffer from natural stone imperfections and cracking under load, these high quality corundum-ceramic stones give a compact mill with great output.