3 Tower Hydroponic Vertical Garden
We're proud to offer you Australia's leading freestanding 3 Tower vertical hydroponic garden system.  If you're interested in urban farming and having control over your food, you'll be very impressed with our hydroponic 3 tower freestanding vertical herb & vegetable garden systems.  These hydroponic 3 tower gardens are made from extremely durable, UV treated, food grade Polypropylene (BPA Free).  This 3 tower garden hydroponic vertical garden comes with everything you need to get started (excluding plants) and it's easy to get excellent results with a wide variety of herbs, vegetables & fruits.
3 towers of 5 tier large stacking planters
60 large plant sites
Includes 4-6 months supply of full spectrum hydroponic nutrient to get you started
Includes 3x 5 Kg Coco Coir block & perlite (growing / soil medium)
Includes a 3 x 60 litre (180 litres) nutrient reservoirs with lids
Includes water gauge
Includes all tubing, fittings & accessories
Refill water & hydroponic nutrient reservoir every 2 weeks
Stands 1.5 metres high
Very simple to setup (step by step instructions are included)
Choose from a solar water pump or mains connected electric pump
Includes solar panel when choosing solar water pump
Tiered planters are made from food grade, UV treated, BPA free Polypropylene (used for food containers)
12 Month warranty on parts
$895.00 inc. GST
Description
How To Setup Your 3 Tower Hydroponic Vertical Garden
Use the reservoirs as a container to break apart the Coco Coir with approximately 15 – 20 litres of water in each mix.
Mix in the supplied perlite. This will give you a ratio of approximately 80% Coco Coir to 20% Perlite.
Fill each vertical garden planter tier with the Coco Coir & Perlite mix.
Make sure the reservoirs are now empty and place the centre poles in and then the reservoir lids over the top.
Stack the tiered planters on the poles.
Open the drain on the reservoir and flush the Coco Coir with water.
Close the drain and fill the nutrient reservoir with 6 litres of water.
Add the hydroponic nutrient.
Place the pump inside the reservoir.
Configure the timer if using the electric pump or connect the solar panel & place in direct sunlight if using solar.
Enjoy the fresh herbs & vegetables produced in your hydroponic freestanding vertical garden.
3 Tower Hydroponic Vertical Garden Package Contents
Please be aware that the image below shows the components included in the solar powered system, not the main connected water pump version.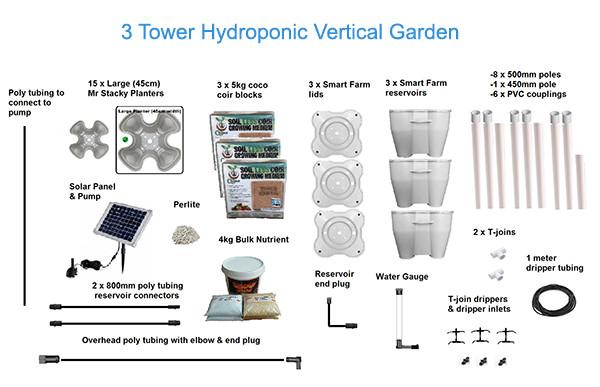 Suitable Plants for a 3 Tower Hydroponic Vertical Garden
Providing your hydroponic vertical garden gets enough sun, it's perfect for use as a vertical herb garden or vertical vegetable garden and you'll be able to grow practically anything in our hydroponic garden towers.
Herb varieties
Lettuce varieties
Kale
Celery
Spinach
Capsicum
Tomatoes
Cucumbers
 Beans
Carrots
Potatoes
Beetroot
Strawberries
And many more!
Hydroponic Vertical Garden Specifications
3 x 60 Litre Reservoir Capacity
3 x 70 Litre root growth capacity (15 litres per planter )
Solar Pump 3.4 metre head & 1700 litres/hour flow rate
Solar Panel 35 watts – 65cm x 45cm
Electric pump 2 metre head & 1400 litres/hour flow rate
12 month warranty on parts
Additional information
| | |
| --- | --- |
| Choose Colour: | Black, Stone, Terracotta |
| Choose Power Source: | Solar, Electric |