Sale!
Countertop Reverse Osmosis Water Filter with Alkaliser – 4 Stage
Enhanced bench top water filtration water filtration efficiency with our new 4 Stage countertop reverse osmosis system with Alkalising filter stage.
Our efficient 3 stage reverse osmosis system improves upon filtration performance through the use of larger, high capacity filter cartridges. This countertop RO filter system effectively reduces a wide array of water contaminants.  As far as RO water filters go, this Reverse Osmosis system is hard to beat.
Chlorine and dissolved solids are reduced through a sediments filter and activated carbon block filter.
Fluoride removal, bacteria, parasites, viruses, pesticides, and heavy metals are removed by the reverse osmosis membrane.
Inorganic chemicals are further decreased through a final carbon filter polishing stage.
Final stage alkalising and re-mineralising filter that raises pH and lowers Oxidation Reduction Potential.
Our new alkalising reverse osmosis system achieves excellent filtration efficiency and capacity whilst delivering purified water with significantly reduced dissolved solids, chemicals, particulates, and pathogens all whilst producing excellent tasting alkalised water.
Carbon Pre-Filter (Made in USA)- Removes particulate matter, chlorine and other organic pollutants for membrane protection.
Ultrafine TFC RO Membrane (Made in USA) screens to 0.0005 micron, filtering viruses, bacteria and parasites. Repels heavy metals and removes fluoride and hydrocarbons.
Carbon Post-Filter (Made in USA) is a polishing filter results in great tasting, pure water.
Alkalising Filter (Made in USA) is for raising the pH and lowering the Oxidation Reduction Potential.
Twist-Off' cartridges ensures a simple, hygienic, no mess method of changing the filters when necessary.
No mains plumbing required – the countertop reverse osmosis water filter simply attaches to your existing kitchen top/aerator using the included fittings.
Maximum Filter output: approximately 380 litres per day
Built using only high quality NSF certified components
Micron Rating: 0.0005 micron
Dimensions: 340W x 170H x 160D mm
Built using only high quality NSF certified components
Fully portable
5 year warranty
You can find details on replacement filters here.  Due to the excellent filtration the flow rate is generally slow and the filter is usually best coupled with some form of storage so that you have high quality filtered water on demand.
inc. GST
Description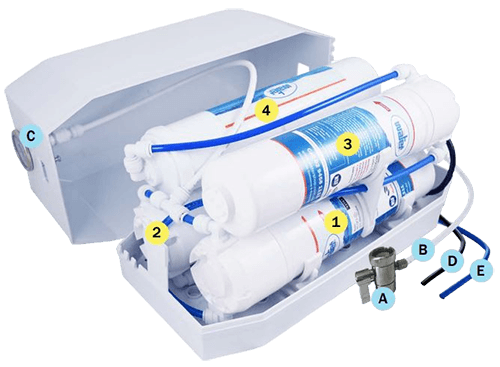 4 Stage Countertop RO Filter Components
1

– Carbon Pre-Filter (Made in USA)

2

– RO Membrane (Made in USA)

3

– Carbon Post Filter (Made in USA)

4

– Alkaliser Filter (Made in USA)

A

– Diverter

B

– 1/4" white tube – food grade

C

– Pressure Gauge

D

– 1/4" black tube – food grade

E

– 1/4" blue tube – food grade
Certified Countertop Water Filtration
This system meets the WaterMark specification AS/NZS 3497:1998 Amdt 1 2001 Drinking water treatment unit – Plumbing requirements.
Certificate Number 23124.
Replacement Filter Cartridges for
4 Stage Benchtop Reverse Osmosis System
Additional information
| | |
| --- | --- |
| Weight | 2 kg |
| Dimensions | 34 × 16 × 17 cm |