Doulton Single Countertop Water Filter Ultracarb
Our Doulton single countertop water filter provides convenient benchtop water filtration. The filter's compact size allows it to sit neatly beside your tap. Quick and easy self-installation is achieved using the diverter valve included.  NSF and WaterMark certified means you can be assured that this water filter has been tested against the highest standards.
At the heart of the system is the Doulton Ultracarb® cartridge with its dual-action filtration:
Outer Ceramic Shell: Made of proprietary Sterasyl® ceramic that filters out particulates, bacteria and cysts through submicron filtration. Silver inhibits microbial growth.
Inner Carbon Block: NSF-tested coconut shell carbon block absorbs chlorine, chloramines, tastes/odors, chemicals, pesticides and heavy metals.
This integrated cartridge reduces turbidity, pathogens, and contaminants through both mechanical filtration and adsorption for broad-spectrum water purification.
The Ultracarb® can filter any water source and be scrubbed clean for repeated use. With straightforward installation and maintenance plus proven Doulton filtration technology, the Standard Single Countertop efficiently improves water quality.
Filter output 5,000 litres
Maximum flow rate: 3 litres per minute
Dimensions: 15(W) x 30(H) cm
5 year warranty
Micron Rating: 0.9 absolute
We recommend replacing your Doulton Ultracarb® filter cartridge every 6-12 months dependent on water quality and usage
$230.00 inc. GST
Description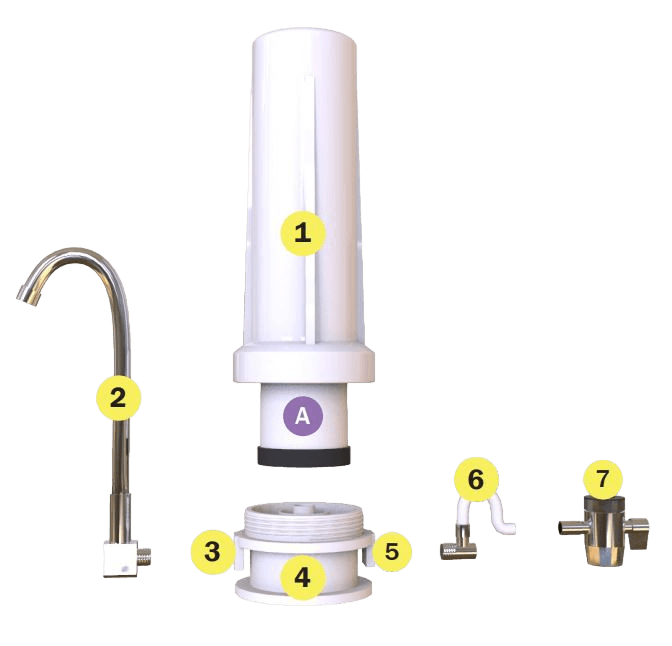 Doulton Single Countertop Water Filter Components
A

– Duolton Ultracarb Filter Cartridge

1

– Housing Sump

2

– Stainless Steel Spout

3

– Outlet

4

– Housing Stand

5

– Inlet

6

– Hose

7

– Diverter
Certified Countertop Water Filtration
This system meets the WaterMark specification AS/NZS 3497:1998 Amdt 1 2001 Drinking water treatment unit – Plumbing requirements.
Certificate Number 23124.
Doulton Single Countertop Water Filter Maintenance
Replacing the Filter Cartridge:
Before starting, ensure the diverter valve connected to the faucet is closed.
Unscrew the filter housing sump counterclockwise to detach it from the housing stand. Hold over sink to release any residual water. The O-ring may lift out and stick to the base when separating.
Remove the O-ring and wipe it clean. Lightly coat the O-ring with silicone grease or olive oil to lubricate.
Note: Inspect the O-ring for damage or wear. It is recommended to replace the O-ring annually to maintain performance. Contact us for replacement parts if needed.
Clean the empty housing sump by partially filling with water and adding 2-3 tablespoons of disinfectant. Scrub thoroughly with a brush or sponge, then rinse until all disinfectant is removed.
Replace the O-ring back into the groove inside the housing sump, pressing it down flat to seal properly. Proper O-ring seating is vital for water-tight filtration.
Remove new cartridge from packaging and ensure it is oriented correctly. Slip the cartridge down over the standpipe inside the housing base.
Carefully fit the housing sump containing the new cartridge onto the base. Hand tighten to secure, being careful not to overtighten. Note: New cartridges may release some loose carbon fines initially and should be flushed to remove them.
With the new cartridge installed and housing reassembled securely, the system is now ready to use again!