Doulton Twin Countertop Water Filter with Fluoride Removal
The Fluoride Twin Countertop w/ Doulton Ultracarb® filtration system is one of the best benchtop water filters in Australia. It is designed to remove chlorine, fluoride, and other harmful contaminants, making sure you have access to clean and safe water affordably. The Doulton Ultracarb® has been around for over 30 years and is known for its superior quality.
This benchtop fluoride water filter is lightweight, portable, simple to use, and easy to install. As a family we take our countertop water filter with us when we are camping – that's how easy it is!
It removes 99.99% fluoride, chlorine, bacteria, heavy metals, and organic compounds
The included Doulton Ultracarb filter life of 5,000 litres
The included fluoride filter life of 1,800 litres
Made from high-quality materials that are designed to last
Easy to install and can be attached to your existing kitchen tap
Easy to maintain with replacement fluoride filters readily available and fitted quickly
Compact design and size (350W x 300H x 130D mm)
Portable and therefore perfect for students, renters, granny flats, and travelling
Fluoride Cartridge Made in USA
Doulton Ultracarb® Cartridge Made in UK
Max Flow Rate of 3 litres per minute
0.9 Micron filtration
Replacement filter sets can be found here.
Individual Fluoride replacement filter cartridge.
$344.00 inc. GST
Description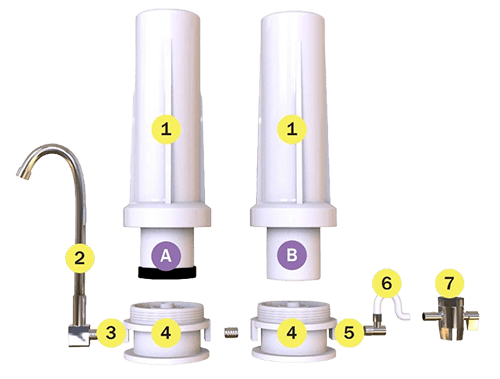 Doulton Twin Countertop Water Filter with Fluoride Removal Components
A

– Doulton Ultracarb Filter cartridge

B

– Fluoride Filter Cartridge

1

– Housing Sump

2

– Stainless Steel Spout

3

– Outlet

4

– Housing Stand

5

– Inlet

6

– Hose

7

– Diverter
Certified Countertop Water Filtration
This system meets the WaterMark specification AS/NZS 3497:1998 Amdt 1 2001 Drinking water treatment unit – Plumbing requirements.
Certificate Number 23124.
Additional information
| | |
| --- | --- |
| Weight | 2 kg |
| Dimensions | 13 × 35 × 30 cm |