Mona by Waldner Biotech – Electric Stone Grain Mill Australia
The Mona electric grain mill has excellent build quality, produces outstanding results and is supported by an 8 year manufacturer warranty.  Not only is this unit one of the the best stone grain mills Australia has available, it's outstanding craftsmanship makes this item a gorgeous addition to any kitchen that needs a stone flour mill for home use.  Enjoy knowing exactly what's in your flour, whilst using your home flour mill and maintaining the fibre content which activates & stimulates digestion.  The taste of freshly prepared bread and other baked goods, milled from your choice of fresh ingredients, cannot be understated.  Experience it for yourself.
This quality design by Waldner Grain Mills ensures that when you mill flour at home, you'll get lots of advantages over other models:
Retain all of the nutrients & enzymes in the grains & spices
Ensures your grain hasn't been overheated in the milling process which maintains high nutrient levels
High grade corundum/ceramic mill stones (self sharpening)
Easily mills many different grains & spices from coarse to very fine
The beautiful exterior is made from Stone Pine wood, grown at 1,700 metres above sea level and is known for it's antibacterial and pest-resistant properties
The 400 Watt motor easily allows you to mill flour at home
Includes overload protection with thermal sensors and child protection
Manufactured in Austria for the highest level of quality control
8 Year Manufacturer Warranty
FREE SHIPPING
$1,095.00 inc. GST
Description
Mona Grain Mill Australian Specifications
Mill Output: 120 grams per minute on the finest setting.  You can expect higher outputs when milling coarser flours.
Millstone diameter: 90mm
Hopper Capacity: 1,000 grams
Motor Specification: 240 volts, 50 Hertz, 400 Watt
8 Year Guarantee
Overload protection & Child Safety
Wooden Casing: Stone Pine (Grown in the Swiss Alps at 1,700 metres)
Manufactured by:  Waldner Biotech in Austria
Suitable Grains, Seeds & Spices for Milling
Wheat, Spelt, Millet, Rye, Corn (Maize not popcorn), Rice, Chickpea, etc (Coarseness setting – fine to rough)
Oat, Flax Seed, Soya Bean, Wild Beans, etc (Coarseness setting medium fine to rough)
 Fennel, Kummel, Cilantra, Sea Salt, etc (Coarseness setting – fine to rough)
How to clean your electric grain mill
Clean housing with a soft damp towel
Clean the grinding chamber with a brush or an aspirator
Clean the millstones by roughly grinding rice or corn (maize not popcorn).  Alternatively use a brush.
Never use sharp items or chemicals for cleaning the housing
Open the mill: The device can be opened easily by removing the hopper.  When closing make sure the hopper is properly in place again.
The device has a safety mechanism that stops the motor when the hopper is removed.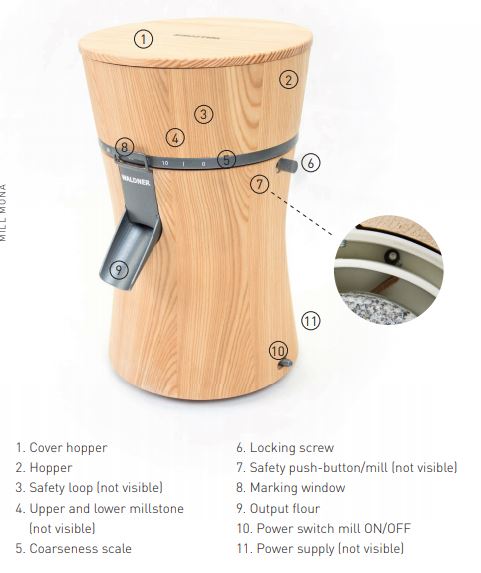 The benefits of having a grain mill in Australia
Providing your grain is used with 24 hours of milling you'll avoid all of the issues below:
The unsaturated fats in the wheat germ begin to oxidise and turn rancid.
Many Vitamins (Vitamin A, B2 (riboflavin), B6, B12 and folic acid) will be destroyed by ultraviolet light
Beneficial enzymes start working and play themselves out.
Vitamin E, which is an antioxidant that helps to protect flour from oxidation, deteriorates once milled, especially if the conditions become moist.
Additional information
| | |
| --- | --- |
| Weight | 7.1 kg |
| Dimensions | 32 × 19 × 19 cm |
| Choose Housing | Larch, Stone Pine |