Sale!
Hydroponic Vertical Garden
We're proud to offer you Australia's premier freestanding vertical hydroponic garden system.  If you're interested in urban farming and having control over your food, you'll be very impressed with our freestanding vertical hydroponic system.  Our hydroponic tower gardens are made from extremely durable, UV treated, food grade Polypropylene (BPA Free).  It's easy to get excellent results both outdoor & indoor with these hydroponic tower gardens.
5 tier large stacking planters
20 large plant sites
Includes 2 months supply of full spectrum hydroponic nutrient to get you started
Includes 5 Kg Coco Coir block & perlite (growing / soil medium)
Includes a 60 litre nutrient reservoir with lid
Includes water gauge
Includes all tubing, fittings & accessories
Refill water & hydroponic nutrient reservoir every 2 weeks
Stands 1.5 metres high
Very simple to setup (step by step instructions are included)
Choose from a solar water pump or mains connected electric pump
Includes solar panel when choosing solar water pump
Tiered planters are made from food grade, UV treated, BPA free Polypropylene (used for food containers)
12 Month warranty on parts
$429.00 – $449.00 inc. GST
Description
How To Setup Your Hydroponic Vertical Garden
Use the reservoir as a container to break apart the Coco Coir with approximately 15 – 20 litres of water.
Mix in the supplied perlite.  This will give you a ratio of approximately 80% Coco Coir to 20% Perlite.
Fill each vertical garden planter tier with the Coco Coir & Perlite mix.
 Make sure the reservoir is now empty and place the centre pole in and then the reservoir lid over the top.
Stack the tiered planters on the pole.
Open the drain on the reservoir and flush the Coco Coir with water.
Close the drain and fill the nutrient reservoir with 6 litres of water.
Add the hydroponic nutrient.
Place the pump inside the reservoir.
Configure the timer if using the electric pump or connect the solar panel & place in direct sunlight if using solar.
Hydroponic Vertical Garden Tower Package Contents
Vertical Hydroponic System – Solar Powered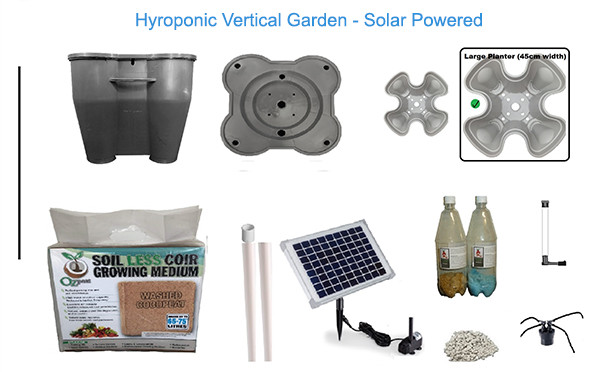 Vertical Hydroponic System – Mains Powered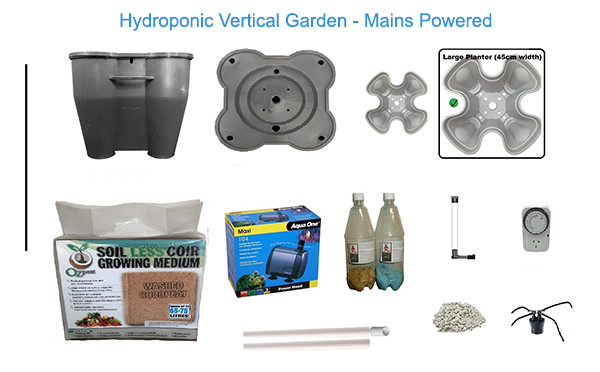 Suitable Plants for a Hydroponic Vertical Garden
Providing your hydroponic vertical garden gets enough sun, you'll be able to grow practically anything in our hydroponic garden towers.
Herb varieties
Lettuce varieties
Kale
Celery
Spinach
Capsicum
Tomatoes
Cucumbers
 Beans
Carrots
Potatoes
Beetroot
Strawberries (it's an excellent strawberry hydroponic tower)
And many more!
Hydroponic Vertical Garden Specifications
60 Litre Reservoir Capacity
70 Litre root growth capacity (15 litres per planter )
Solar Pump 3.4 metre head & 1700 litres/hour flow rate
Solar Panel 35 watts – 65cm x 45cm
Electric pump 2 metre head & 1400 litres/hour flow rate
12 month warranty on parts
Automatic Hydroponic Vertical Garden Systems
Quality Hydroponic Tower Design
Large, stable modular design that can easily expand your vertical hydroponic system
Constructed from Food Grade Polypropylene (5)
UV Treated to withstand our Australian conditions
Large recirculating water reservoir that makes your vertical hydroponics tower water efficient & space saving
Choose either solar water pump or mains connected water pump to feed your hydroponic nutrients automatically
Awesome Hydroponic Tower Results
Our vertical hydroponic systems use the simplest methods available to produce the maximum yield on herbs , vegetables & fruits.
Your hydroponic grow tower package includes quality nutrients & Organic Coco Coir so you can get started immediately
Excellent Australian support
Outstanding 12 month warranty on functional parts
What is Hydroponic Vertical Gardening?
Hydroponic vertical gardening is an excellent way to grow quality, nutrient dense herbs, vegetables & fruits. These plants don't actually need soil to grow and by controlling the growing medium hydroponics can achieve substantially greater yields on your crops. Freestanding vertical gardens provide more choice.
The hydroponic nutrients are delivered to the plant root using the automatic watering system. This means that roots of the plants in your vertical herb garden will spend less time searching for nutrients and can dedicate that energy to herbs, vegetables & fruits you'll harvest.
What is the Coco Coir in the Vertical Hydroponic System?
The Coco Coir in our DIY hydroponic towers is essentially the growing medium that is the substitute for standard soil.  Our organic Coco Coir is made from coconut husk.   Coco Coir is excellent for water retention and has considerable anti-fungal properties that will eliminate many of the issues that growers find with soil borne diseases.
You'll recieve a compressed block that will expand by up to 8 times in volume and even when completely soaked it will still contain more than 20% air.  Additionally the Coco helps maintain a PH range between 6 – 6.8 which is another reason why this is on of the best vertical hydroponic systems on the market.
How is the hydroponic nutrient used?
Our vertical hydroponic system is shipped with a 2 part (A & B) nutrient system.  The convenience of our hydroponic nutrients is that they're designed to facilitate every stage of plant growth and that removes the need to feed the plants specific nutrients for the growth & bloom stages.
In order to apply the nutrients it's a simple as filling the 1.25 litre supplied nutrient bottles with water and shake well until the mixture has dissolved.  The correct amount of nutrient is 5ml per litre of water.  The calculation for the 60 litre recirculating reservoir is 300ml of each nutrient every fortnight.  The exception to this rule is that if you're growing from seedlings the dose should be halved until the seedlings are large enough.
Additional information
| | |
| --- | --- |
| Weight | 6 kg |
| Dimensions | 65 × 55 × 55 cm |
| Choose Colour: | Black, Stone, Terracotta |
| Choose Power Source: | Solar, Electric |