Sale!
Megahome Water Distiller Australia by Springflow
The Megahome Water Distiller by Springflow is the best benchtop water distiller in Australia.  This is the most durable, well built, water distiller on the market and if you've done your research you'll already know it's reputation.  Enjoy this high quality Stainless Steel water distiller as it easily removes the Fluoride from your water. It's simple to use, easy to clean, portable and conveniently produces the cleanest drinking water at home for around 24 cents per litre.  If you're ready to buy a water distiller in Australia and get excellent customer service, you can't beat the Megahome Water Distiller.
No installation required.  Just fill up, plug in and turn on.
Perfect for cleaning water from your town supply, tank or bore water
Produces 4 litres in 5.5 hours (approx. 24c/L)
Automatic shut off once the cycle has completed
Includes a 4 litre glass jug for collection
Includes a 6 month supply of Activated Carbon Filter sachets to remove any VOCs (Volatile Organic Compounds.  eg. Chlorine)
Includes a descaler and cleaner to keep the water distiller working at maximum efficiency
Easily removes all toxins including fluoride & chlorine
High grade Stainless Steel exterior finish
High grade Stainless Steel under lid
High grade Stainless steel boiling chamber
High grade Stainless steel cooling coil
12 Month Warranty

FREE DELIVERY
This is the Megahome water distiller licenced for the Australian market under the Springflow brand.  This is the exact model that is trusted and used by Doctors, Dentists & Vets to make distilled water in Australia. 
$480.00 inc. GST
Description
Megahome Water Distiller Product Description
The water distiller will remove 100% of the toxins and pollutants listed below:
Chlorine
Flouride
Lead
Aluminium
Cadmium
Arsenic
Sodium
Hardness
Pesticides
Herbicides
Nitrate
Organics
Phosphates
Sediment
Bacteria
Giardia
Cryptosporidium
Viruses
Sulphates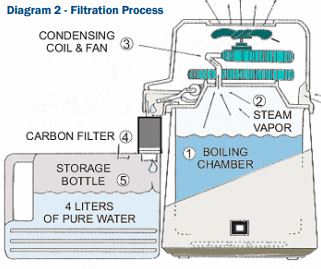 Distillation Time:
Produces 4 litres of pure water in 5.5 hours
Carbon Filter Lifetime:
Each Carbon Filter Sachet lasts for a maximum of 30 days
Power Usage:
580W
Safety Standard:
Model MH943/S has passed CE & AS/NZS 3350 Safety Standard.  Approved for Medical Use.
Manufacturer:
Megahome
Unit Type:
Distilled Water Machine
Water Distiller Package Contents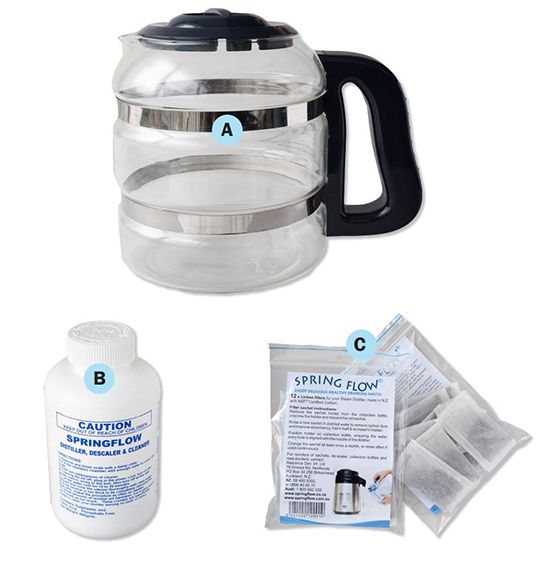 How To Make Distilled Water
Using the home water distiller is the easiest way to make distilled water.  Simply fill the boiling chamber to the full marker on the inside of the water distiller.  Fit the head unit securely on top of the the distilled water machine. Switch on the power on the side of the unit and position the glass collection jug under the nozzle and in 5.5 hours you will have approximately 4 litres of distilled water.
We'll get your water distiller shipped out as soon as possible.  Once your order has left the warehouse we'll send you the tracking information for the delivery.
The water distiller is supported by an Australian 12 month warranty covering all parts & labour.
Additional information
| | |
| --- | --- |
| Weight | 3.2 kg |
| Dimensions | 40 × 23 × 36 cm |
You may also like…
$

54.00 inc. GST

$

52.00 inc. GST