Under Sink Reverse Osmosis System – 4 Stage
Our 4 stage under sink reverse osmosis system provide the best in class RO water filtration.  Our RO systems are NSF certified and have the relevant Australian Watermark certificates for drinking water treatment which means you can be assured that these under sink RO filters are tested against the most stringent standards.
Our under sink RO systems are made from very high quality components and the filters are all manufactured in the USA.  These under sink reverse osmosis systems include quick change cartridges, delivering excellent purified water and an effortless method to change your RO filters when required.  If you're looking for an outstanding and reliable fluoride filter it's hard to beat these RO systems.
Sediment Pre-Filter (Made in USA) – Mechanical filtration removes fine sediment particles.
Carbon Pre-Filter (Made in USA) – Removes chlorine, pesticides, heavy metals and other organic pollutants.
Ultrafine TFC RO Membrane (Made in USA) – Screens to 0.0005 micron, filtering viruses, bacteria and parasites.  Also removes Fluoride and Hydrocarbons.
Coconut Carbon Post-Filter (Made in USA)- The final polishing filter that delivers outstanding, clean, purified water.
RO System includes 10 litre storage to enable you to dispense your filtered water on demand.
This installation of this under sink RO system requires basic plumbing skills and drilling a hole in order to mount of the filtered water tap.
Maximum flow rate of 3 litres per minute.
Max filter output of approximately 200 litres per day (@60psi 25ºC).
Micron Rating: 0.0005 micron
RO Filter system dimensions 320W x 420H x 110D mm.
10 litre tank Dimensions 317W x 203D mm.
5 year warranty.
$995.00 inc. GST
Description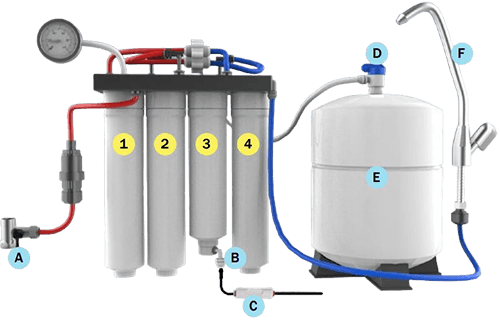 4 Stage Under Sink RO Filter Components
1

– Sediment Pre-Filter (Made in USA)

2

– Carbon Pre-Filter (Made in USA)

3

– RO Membrane (Made in USA)

4

– Carbon Post-Filter (Made in USA)

A

– Feed Water Valve

B

– Stem Elbow

C

– Inline Flow Restrictor

D

– Storage Tank Tap

E

-Pure Water Storage Tank

E

-Pure Water Faucet
Certified Countertop Water Filtration
This system meets the WaterMark specification AS/NZS 3497:1998 Amdt 1 2001 Drinking water treatment unit – Plumbing requirements.
Certificate Number 23124.
Replacement Filter Cartridges for
4 Stage Under Sink Reverse Osmosis System
Additional information
| | |
| --- | --- |
| Weight | 3 kg |
| Dimensions | 370 × 370 × 420 cm |