Sale!
Waters Co BIO 1000 Benchtop Water Filter
The Waters Co BIO 1000 goes further than most benchtop water filters. Not only does it filter out fluoride, chlorine, chemicals, heavy metals, fluoride & bacteria, it also re-mineralises and ionises your water . The glass storage reservoir has a convenient 10 Litre capacity that makes it perfect for both domestic & light commercial use.
The included filter set will last up to 5 years based on filtering 8 litres of water per day.  If you're looking for a high quality benchtop water filter that's convenient & economical (approximately 3 cents/litre), the BIO 1000 by Waters Co is outstanding value.
Features:
10 Litre capacity designed perfectly for family & office use
Filters approximately 1 litre of water per minute
The glass storage reservoir is hand blown silica blue glass
Includes 15 stages of water filtration & activation
The included filter set will last up to 5 years or 15,000 litres
Filters 99% of Fluoride using a special patented compound (not containing Activated Aluminium)
Filters 99.99% of heavy metals, chemicals & bacteria
Easily transforms your tap water into delicious alkaline mineral water
Your filtered alkaline water will be an average pH of 7.4 – 8.5
Over 60 Bio organic trace minerals added in addition to Organic Germanium
Utilises an Alkalite Diskette which produces far infrared Ki
Produces magnetised structured water
Bio Ceramic in tank to keep the filtered water live and fresh
A great economic choice at around 3 cents per litre of filtered water
Very simple to set up, fill & service
No electricity required
No tap connection required
Compact size & lightweight
BPA, BPN, BPS free materials
The efficiency of this benchtop water filter has been independently tested and is NSF certified
Perfectly suited to domestic water supplies and tank / rain water usage
Lifetime Warranty
FREE SHIPPING
The Waters Co BIO 1000 boasts 15 stages of sterilisation, filtration & activation using multi stage cartridges that contain sub micron pre-filters, Silver ionised activated coconut shell carbon, Ion exchange cation resin for 99.99% Fluoride removal, Bio organic coral mineral sands, Silica sands, Far infrared ceramics & Bio ceramic Somelite™ Magnets and other patented filter medium.
The Waters Co BIO 1000 is the latest evolution in 32 years of producing high quality benchtop water filters.
inc. GST
Description
The Bio 1000 is the latest development of the ever popular BIO 400 benchtop water filter system.  The original BIO 400 has been available in Australia for over 30 years, so it's fair to say that it's got a great track record for quality & support.
The BIO 1000 is specifically designed to remove pollutants & contaminants from your drinking water and then structure the water to allow the body to absorb & use the water efficiently.
The development team over at Waters Co have developed the an unequalled method for removing 99.99% of fluoride from your drinking water.  This is unparalleled in the water filtration industry, especially considering it's not using activated aluminium.
Waters Co BIO 1000 Specifications
Attribute

Detail

Height

48.5 cm

Base Diameter

30.5 cm

Weight

6.4 kg

Storage Material

Glass Reservoir

Capacity

10 Litres

Filter Life

5 Years or 15,000 litres
Based on typical Australian domestic water supply
Waters Co BIO 1000 Filter Set
Up to 5 years or 15,000 litres worth of filters included. 
The Waters Co BIO 1000 uses a unique set of filtration technologies to deliver the highest quality water a benchtop water filter can provide.  The patented 15 stage filtration & activation system include a pre-filter membrane, activated silver ionised carbon, ion exchange resin, coral minerals, silica, bio ceramic, far infrared, magnets and other patented filter medium.  It removes up to 99%  of fluoride and unlike other products it uses nano activated carbon for fluoride removal, not activated alumina.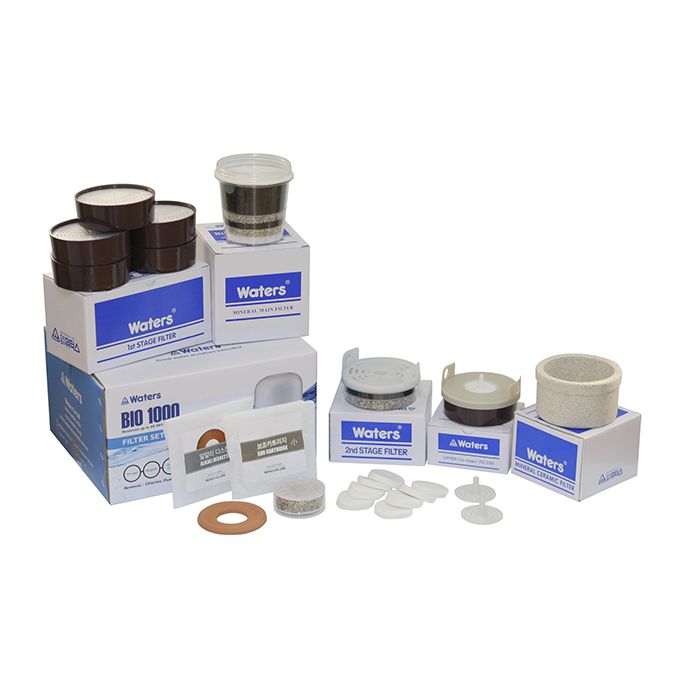 Additional information
| | |
| --- | --- |
| Choose Colour: | Grey, Black |