Our under sink water filter range provides instant clean water when needed. You'll buy an under sink water purification system that delivers superior water filtration, effectively removing contaminants for fluoride water filtration, heavy metals and pesticides. 
If you're still using unfiltered tap water, under sink filtration can make a huge difference in the quality and taste of your water.  The benefits of a below sink water filter are the convenience, ease of installation and on tap pure, filtered water .
Explore the best under sink water filters Australia has available.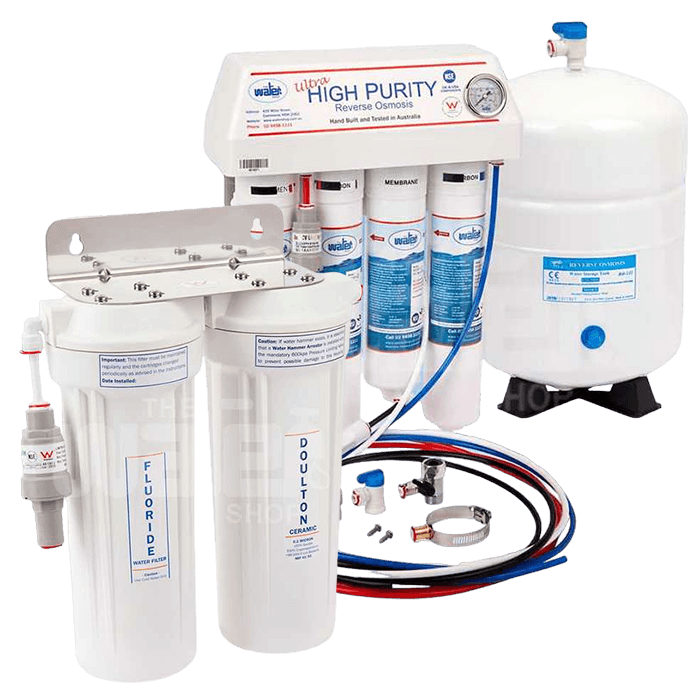 The Absolute Best Under Sink Filtration
Our range of under sink water purification systems are extremely convenient and relatively easy to install.  A filtration system under sink delivers purified water whilst being conveniently hidden away.
Join a growing movement of well informed people that are using quality under bench water filters for clean water.  Eliminating the contaminants as well as unpleasant tastes and odours from your water supply is one of the many benefit of a of the best under sink water filters.  The best best under sink filtration will restructure and re-mineralise the water to make it more available to your body.
Under Sink Water Filter FAQ
The Benefits of Under Sink Water Filters
Installing an under sink water filter is one of the most effective ways to filter the water in your home. These systems are mounted out of sight below the sink, filtering your water right before it comes out of the tap. Some key benefits of under sink filters:
Provides filtered water on demand – no need to wait for the water filter such as a gravity fed water filter.
Removes a wide range of contaminants including lead, chlorine, pesticides, pharmaceuticals and more.
Easy to install under your existing sink. Hooks up to the sink's main water supply and providing you have the skills, installs in under an  hour in most cases.
High quality filtration due to the contact time with the filtration media.
Under sink systems are an efficient and high performance way to improve your home's water quality.
Why Choose an Under Sink Water Filter?
Installing an under sink water filter system provides several advantages over other filtration options:
Convenience – Filtered water on demand, right from your tap.
Space Saving – Mounted out of sight below the sink to free up valuable space as opposed to countertop water filters.
Superior Filtration – depending on the chosen under counter water filter it removes up to 99% of contaminants including fluoride, lead, chlorine, pesticides, pharmaceuticals and more.
Flexible Installation – Choose from a great range of taps to match your kitchen's style.
Cost Effective – Cartridges last  approximately 12 months and over the long term the economics of under sink filtration are much better than buying bottled water.
Healthier Water – under sink water purifiers eliminate the vast majority of contaminants, the harsh chlorine taste, odours. and provide all round better tasting water.
With an under sink filter, you'll have access to cleaner, healthier water for drinking, cooking, and more – right from your tap whenever you need it. No hassle or wasted space. Discover the advantages of under sink filtration for your home.
Do under sink water filters waste water?
Some under sink filters, like RO water filters, will produce waste water during the filtration process.  If you're on rain water, it can be smart to consider the standard types of under bench water filters.
Are under sink filters effective at removing fluoride from water?
Not all under sink filtration removes fluoride. To remove fluoride, consider a specialized fluoride filtration designed for that purpose or a reverse osmosis system.
How often do I need to replace the filter cartridges?
The best under sink water filter system filter replacements frequency depends on the filter type and your own water usage.  Please follow the manufacturer's guidelines for specific details and recommendations.
Can I use under sink water filters for hot water as well?
Most under sink filters are designed for cold water use only. Using them for hot water may damage the system or reduce its effectiveness.