Our vertical herb gardens are designed for herb gardening in Australian conditions and are suited to both indoor & outdoor use.  Our vertical herb garden produces outstanding yields without requiring too much space and from our customer feedback that they're the likely the best vertical herb gardens on the market.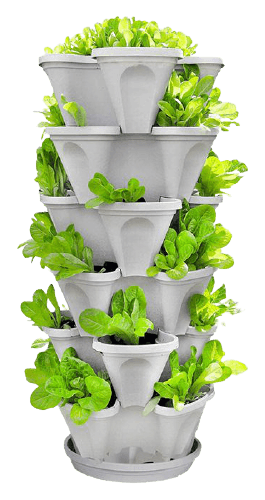 Vertical herb gardens for outdoor & indoor use.  The perfect way to save space when growing your greens and we think they're the best herb gardens Australia available.  Utilising a gravity fed watering system that makes sure every drop of water is put to good use.  Our recirculating systems will produce up to 90% water saving over traditional methods of growing herbs.
$

55.00 –

$

222.00 inc. GST

$

429.00 –

$

449.00 inc. GST
What Are Vertical Herb Gardens?
Vertical herb planters are the perfect way to grow your own herbs conveniently at home.  By stacking individual herb planter layers vertically it's clear that this method use significantly less space and often produces multiples more yield than traditional gardening methods.  Vertical herb gardens use much less water and usually need less maintenance.
Our vertical herb planters are specifically designed to improve your standing herb garden's yield and help minimise water usage.  Our customers report that they often achieve great results with less effort.  Our range of vertical herb garden planters are perfect for use in both hydroponic growth medium or standard soil.  We're confident that our range is among the best vertical herb garden ideas Australia has to offer. You'll get everything you need to get your free standing herb garden started, including excellent Australian support.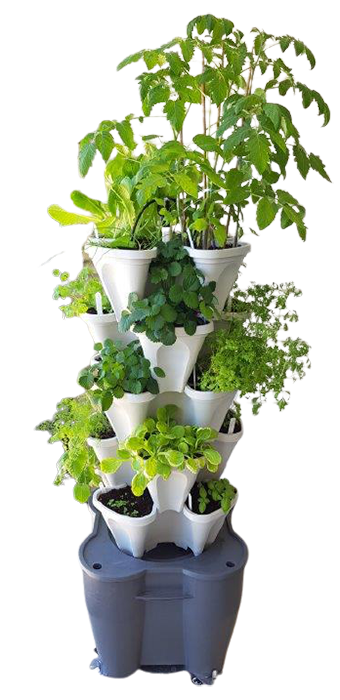 Ideas for herbs that grow well in a vertical herb garden.
There's few things better than fresh herbs grown at home.  They add so much flavour to your cooking & salads when they're freshly picked.  There's no comparison to buying herbs at the supermarket and the herbs grown in your own stackable herb garden pots.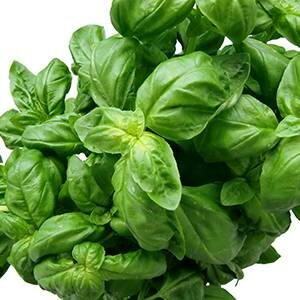 Basil is used in so many different dishes because it's an instant flavour enhancer.  Also considering there's lots of varieties of Basil that will grow well in a vertical garden, you'll be making pesto or chilli basil dishes in no time.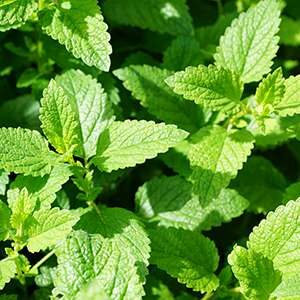 Mint is one of those herbs that grows quickly and has lots of uses.  There's lots of types of mint & many of them are perfect for salads & great in teas.  In our experience it's best top grow mint in a single planter level not combined with other plants because it's invasive and it's roots will completely overwhelm other plants in the same planter level.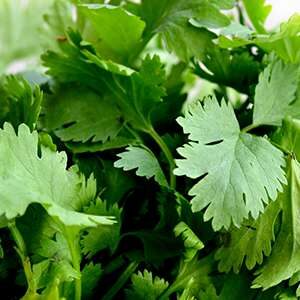 I'd hate to imagine how much we'd spent on Coriander as a family before growing our own .  It goes in everything at our house.  Coriander root in our Thai salad dressing and marinades.  It often used as a garnish on salads as well.  Plant your Coriander at the bottom layers of your vertical herb garden because Coriander prefers some shade.  Planting in late summer going into Autumn will often give the best results.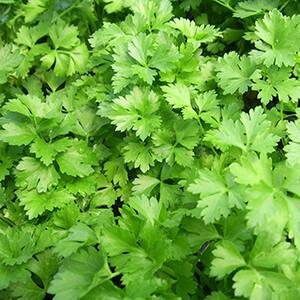 Parsley is easy to grow and it's the type of herb that can be cut many times before damaging the plant.  Parsley likes sun but don't burn it.  It's packed with nutrients and the flat leaf variety is our preference.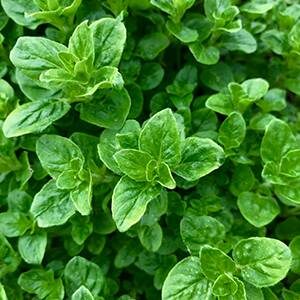 We all know Oregano as one of the stronger flavours in great Italian tomato pasta sauces.  Oregano is a versatile herb that can be used for meat, fish & vegetarian dishes.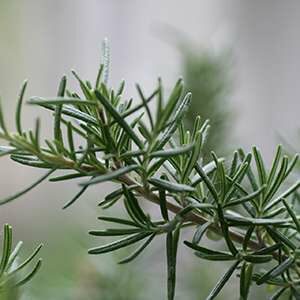 Rosemary is easy to grow and grows quite quickly.  It's very fragrant and is often used in meat and pasta dishes.  Rosemary has an added benefit of it being known to repel insects.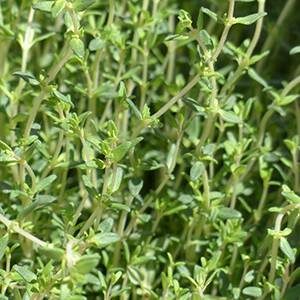 Thyme is a must have in your herb garden because of it's versatility across so many recipes.  Often used to add flavour to chicken & fish, I've personally used it regularly to wrap chicken in bacon & Thyme.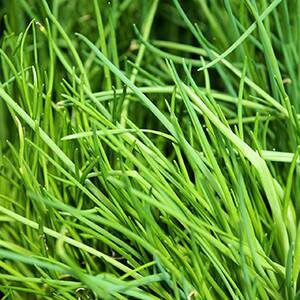 Many know this herb from the flavour of sour cream & chives but did you know that it's known as a mosquito repellent?  Chives has a mild onion like flavour that's great for seasoning many recipes.
A few tips for success with your vertical herb garden.
Growing herbs from seed is hard unless you're experienced.
Often gardeners trying to grow herbs for the first time face a few failures.  Successfully growing herbs from seed is difficult for the unexperienced gardener.  Some varieties of herbs will take 2 weeks to germinate and successful seed germination is always fun.  For approximately the same price as a packet of seeds you can often find established seedlings that will make your initial experiences growing herbs in a vertical garden quick & addictive.
Choose to grow herbs that are easy & useful.
By all means be creative but our advice for the beginners amongst us is you'll find that the list of herbs above will cover the vast majority of your herb garden needs.  Once you taste success and experience the difference in freshness & flavour, you'll be motivated to broaden your selection.  A little success in your vertical herb garden to start with will keep the motivation there long term.
Most varieties of herbs require regular moderate amounts of water.  Don't leave them for days at a time without watering.  If you purchase a hydroponic herb garden you'll get a recirculating water system and growing medium that helps reduce pooling for even more success.
Cut back established herbs regularly.
Once your herb plant is established it's actually beneficial to cut back the plant within reason.  When you trim, cut just above a set of growing leaves and this will produce 2 new stems in place of the single stem you've just cut.  Regular trimming will produce a healthier herb plant that produces more of the delicious herbs that you're after.
Harvest your leaves from the right place.
When you need to harvest from your herb garden ensure that you cut from the base of the stem just above the existing growth.  It's also best to leave older leaves at the bottom in place.  They're more resilient and they're powering the whole plant.  By harvesting the leaves at the top (not all of them – leave some for the plant to continue growing) you give the plant the best chance of producing more in the future.
Vertical Herb Garden Frequently Asked Questions
Do vertical herb gardens work?
The are so many advantages to using a vertical garden for herbs to grow your herbs and even vegetables & fruits.  our customers find they produce more yield from their herbs in a smaller space because of the stacking nature of the vertical herb planter.  If you're short on space & you're interested in easy urban farming you'll be pleased by the results these standing herb gardens create compared to traditional herb gardens.  If you've done your research you'll know that these are the best vertical indoor & outdoor herb garden planters Australia has to offer.
How does a vertical herb garden work as a system?
A vertical freestanding herb garden system is used to grow herbs vertically utilising stacking herb planters with either a hydroponic growth medium or standard soil.  The herb planter tower is watered from the top and the water and nutrients will fall down through the layers beneath to drip into each of the planter levels in your vertical garden system.  Vertical garden systems can be freestanding, a type of wall herb garden or a hanging herb garden.  We find that both types have advantages, but the freedom of a freestanding vertical herb garden is excellent and requires less effort to install.
What grows well in a vertical herb planter?
Our customers have had a lot of great vertical herb garden ideas & real success with growing herbs vertically in our freestanding vertical gardens. See the table beneath for a selection herbs that can be grown in a vertical garden.  Your vertical herb garden ideas are really only limited to what you can safely support in your growing geography.
| Plant Type | Plant Details |
| --- | --- |
| Herbs | Coriander, Basil, Chives, Oregano, Parsley, Cumin, Beebalm (Bergamot), Borage, Chervil, Cilantro, Dill, Lemon Balm, Lemon Grass, Marjoram, Mint, Nasturtium, Rosemary, Sage, Savory, Stevia, Thyme & Wheat Grass plus many others. |
Can you grow herbs in a vertical herb garden?
Our freestanding vertical garden systems are an ideal solution for a vertical indoor herb garden kit Australia or outdoor vertical herb garden.  I'm sure you find buying herbs from the supermarket is often expensive and usually wasteful when we the whole herb isn't required for the recipe.  The simplicity of being able to walk out to your backyard, patio or balcony and get what you need from your vertical herb garden is both convenient and efficient.  You'll be able to successfully grow herbs like Coriander, Basil, Chives, Oregano, Parsley, Mint, Cumin, Beebalm (Bergamot), Borage, Chervil, Cilantro, Dill, Lemon Balm, Lemon Grass, Marjoram, Mint, Nasturtium, Rosemary, Sorrel, Sage, Savory, Stevia, Thyme & Wheat Grass plus many others.
Can you grow Carrots in a vertical herb garden?
You will most certainly be able to grow carrots in a vertical garden along what your herbs.  Add to that, you'll generally produce greater yield than growing traditionally in the ground.  Although some root vegetables like carrots won't turn out straight when they're grown in a vertical garden.  That being said, they will be just as nutritious than those grown traditionally. Bear in mind that you would need roughly 13 – 18 times that amount of space on the ground when compared to the results in your vertical garden.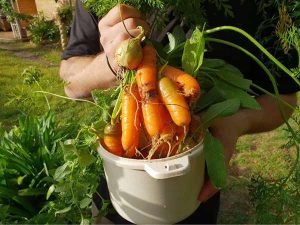 Are these vertical planters suitable for a vertical vegetable garden?
Many of our customers are looking for an efficient and cost effective vertical vegetable garden.  We know from experience that all manor of vegetables can be abundantly grown in our vertical herb planter.  Providing your herb garden gets adequate sunlight you should be able to grow an excellent variety of vegetables in your vertical vegetable garden.  Some examples of the vegetables that we've successfully cultivated are Lettuce, Spinach, Kale, Celery, Capsicum, Beans, Swiss Chard, Carrots, Cucumbers, Eggplant, Garlic, Onions, Chillies, Tomatoes, Beet Root, Potatoes & Pumpkin.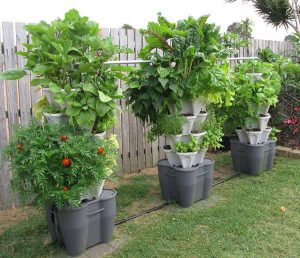 What is a hydroponic herb vertical garden?
A hydroponic vertical garden is a convenient & efficient way to grow herbs, vegetables & fruits without soil.  The planters are stacked on top of each other and unlike herb wall planter you'll have 360 degree access to your herbs.  Please ensure that every layer in your vertical hydroponic garden receives enough sunlight & enough air flow.  Our customers will generally grow their plants in a medium of Coco Coir Pete and Perlite (natural volcanic glass) at a a ratio of 80% Coco Coir to 20% Perlite.  This ensures that each layer of  plants in the vertical herb planter gets enough aeration around their root systems and adequate drainage to help avoid root rot.  Hydroponic vertical garden herb planters have a lots of benefits over traditional gardens.  These include:
More yield on your herbs & vegetables / m2 of area compared to ground gardens.
Very useful for growing herbs where space is limited and they're well suited to use in 

balconies, 

backyards, patios and rooftops.
A maximum of 90%  improved water efficiency using the recirculating systems.
Hydroponic herb vertical gardens also reduce the risk of soil borne diseases.

Allows you to grow indoors

 all year round.
What is the vertical herb garden outdoor suitability?
Every successful garden needs enough sunlight.  Given that, you'll likely be able to generate significantly greater yield growing outdoors compared to growing your herb garden in the ground.  Considering Australia 's climate our vertical herb planters are perfectly suited to growing successfully outdoors.    The unique free standing tower makes these herb planter towers perfect for setting up the patio  or balcony as well.
Is a free standing herb garden easy to maintain?
Our vertical herb garden systems are very easy to maintain.  Because of the simple freestanding design you can get access every part of your herb garden and easily monitor the progress.  You'll find that there's no need bend over constantly for weeding and to inspect for pests.  Watering the vertical herb garden is as simple as watering the top tier of the planters and allowing the water & nutrients to fall down through the planter layers underneath.  If you purchase one of our heavy duty trollies, you'll also be able to easily relocate your herb vertical garden as you see fit.
Can you grow tomatoes in a vertical herb garden?
You can use your vertical garden is an to grow tomatoes.  Growing tomatoes often demands good sunlight (generally 6 hours per day) and they also prefer a lot of water.  In our experience it's likely that the tomato vines will require a little extra support as they would if grown traditionally.
How do I water my vertical garden?
Watering your free standing herb garden is very easy.  Pour water on the top layer of your herb garden tower and let the nutrients filter down to each layer vertical planters underneath.  Each planter level is designed with drainage holes in the centre and the outer areas of the planter to distribute the nutrients consistently to the plants root system.  Our vertical herb garden is designed to prevent water pooling and helps avoid root rot.
Are the vertical planters made from food safe material?
Yes, our vertical herb planters are made from food safe material .  The planter layers are manufactured from Polypropylene (5) which one of the most inert plastics available.  You'll find this type of material used in food storage for yogurt in the supermarket.  Additionally our herb vertical garden system has been UV treated to make sure it's durable over the long term.
Is there a difference between a vertical garden and vertical planters?
There is no real difference between a vertical garden and vertical planters.  They are really just different names for the same type of vertical gardening system.